staff
Horizon's staff team is here not only to keep the game running, but also in case you have any questions, concerns, or suggestions. Holler if you need us!
---
Administrator
Fao
Accounts: Bravo, Dust, Lark, Momo, Pace, Uther
Most active: Weekdays
May be scarce: Weekends
Timezone: Hawaii
31, Fao is the mother of two young boys, and married living on the island of Oahu. Thankfully they get internet there, because that is what she does. She enjoys writing online with friends, playing video games, drawing, and eating. Having roleplayed now for half her life, she doesn't imagine she will ever stop. She wants four cats but her husband is allergic and that's really dumb. She says she'll write a novel someday, but she's probably lying.
Contact email: mutedsky@gmail.com
---
Moderators
Rainy
Accounts: Anna, Percival, Pyre, Runa
Most active: Midday
May be scarce: Weekends
Timezone: CST
Rainy is 28 and lives in Texas with four dogs, a cat, a horse, a husband, and what may very well be an unholy number of goats that run her life. She works with horses, dogs, aforementioned goats, and draws things. She is old enough to remember the original Taiyae but wasn't cool enough to have any memorable characters on it.
Contact email: rainypony@yahoo.com
---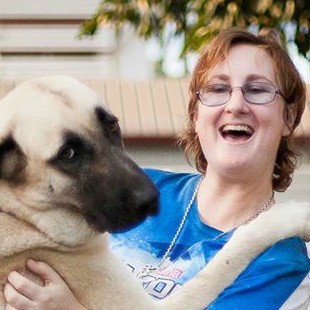 Chris
Accounts: Ash, Bucky, Eve, Kaya, Jaylan, Jasper, Natasha, Ozias, Ruby, Tesla, Wrenn, and Yuna.
Most active: 5-12 PM AEST.
May be scarce: Tuesday-Wednesday-Thursday evenings, otherwise while sleeping or working.
Timezone: AEST.
Chris is in her early thirties but in denial about it and lives in sunny Queensland, Australia, with her heart dog, Maya the Anatolian Shepherd. For the past thirteen years she has been a supervisor at a pet store who adopts out rescue animals only, as she is passionate about animal welfare. She grew up on a yacht cruising around tropical islands and has never lost her love of the ocean. She's an absolute nut for Marvel, an avid fan of Firefly, Scrubs, and most anything Disney. When not on Horizon she is probably stalking her local theater for new releases or failing that movies she's seen three times already.
Contact email: chestnutwolfe@gmail.com
---
Quinn
Accounts: Claes, Effie, Kato, Maya
Most active: Evenings
May be scarce: When I work. ugh
Timezone: CST
Quinn is 28(?) and lives in Illinois. Quinn likes to collect dead things and yes, Quinn knows it's weird. The walls in her room are so loaded down with decorations, the whole house might actually collapse before long. She enjoys playing woofs and avoiding adulthood. When she's not avoiding adulthood - she works her butt off to serve everyone all that greasy disgustingly delicious fast food they love so much.
Contact email: kmbrlykstrson@yahoo.com
---
Art
Accounts: Nanna, Oscar, Phoebe, Pierce, Tempest, Vincent
Most active: It is a mystery
May be scarce: Tuesday, Saturday
Timezone: CST
Art is 29 and moved to Texas at the end of 2018. They are seeking a new career path and possibly a Master's degree in mental health counseling. Besides roleplaying, their hobbies include practicing their very amateur leather-crafting, finding new music, and being a sucker for mobile games.
Contact email: akaczism@mail.com
---
Sabrina
Accounts: Tanaska, Kronos, Jacqueline, Dragomir, Frick, Sophos, Drake, Roxy
Most active: Evenings
May be scarce: Weekends
Timezone: EST
Sabrina is 19 and lives in Pennsylvania. She's recently started studying for a molecular biology degree because she absolutely loves science and animals. She likes writing, too, which is what got her on Horizon in the first place! Sabrina has been roleplaying since she was 8 years old and sincerely feels sorry for whoever had to roleplay with her back then. She's super fond of music, and will never turn down a chance to learn about new songs. She likes to draw, too, but isn't very confident in her art skills.
Contact email: sabrina.c.c.4@gmail.com
---
Founder
Chels
Founder
Note: Chels is currently away from the site and will hopefully return in the future!